Educational Trip To Japan For International Schools
Japan provides the perfect blend of cultural beauty and technological innovation.
Our tailor-made packages include...
Local English speaking guide throughout
Free teacher places available
Choose your excursions
Meiji Jingu is one of the Japan's most popular shrines, dedicated to the sacred spirits of Emperor Meiji and his consort, Empress Shoken. A lush and tranquil forest surrounds the complex of buildings that make up the shrine. In 1920, over one hundred thousand trees were donated from people all over the country to create this soothing space.
2 hours
See on map
Harajuku is universally recognised as the fashionable hub of Japanese youth culture and fashion. A popular shopping and dining destination, Harajuku offers an eclectic mx of international luxurious high end chain stores sitting stylishly alongside interesting and funky boutique independent stores.
2 - 3 hours
See on map
03
Tokyo Metropolitan Government Office Building
Ascend to the free observation decks of the Tokyo Metropolitan Government Building in Shinjuku for the most magnificent panoramic views of Tokyo and beyond. The striking 243 meter tall building has two impressive towers, each housing an observatory at a height of 202 meters.
1- 2 hours
See on map
04
Suginami Animation Museum
The Suginami Animation Museum opened in 2005 and is a renowned creative hub, providing a fun and inspiring way to learn, experience and understand anime. Many prolific animation companies are represented within this 'anime town'.
1- 2 hours
See on map
The creation of award-winning Japanese animation director Hayao Miyazaki, this imaginative museum includes a theatre showing film excerpts, a rooftop garden and exhibits related to his movies, including 'Spirited Away'.
1- 2 hours
See on map
06
Imperial Palace Plaza and Nijubashi Bridge
One of the most popular sightseeing locations in Tokyo is the Imperial Palace, formerly Edo Castle and the official residence of the Emperor. Take a symbolic photography in front of the Nijubashi Bridge, which is an iconic representation of the Imperial Palace. Nijubashi is one of the most well-known bridges in Japan and is internationally recognised.
2 - 3 hours
See on map
07
Asakusa Kannon Temple and Nakamise Shopping Street
Asakusa Kannon Temple is one of Japan's most popular and colourful Buddhist's temples. The Nakamise market is a shoppers' paradise! Part of the Asakusa Kannon Temple complex, it is a covered street with bustling stalls along each side – perfect for your souvenir shopping.
2 - 3 hours
See on map
Gion is probably Kyoto's best known area due to its historic links with Geisha. It continues the tradition and Maiko or apprentice Geisha can still sometimes be seen walking around this pretty area with its wooden lattice windows. Shops sell traditional wares and crafts associated with Geisha culture.
1 hour
See on map
Shibuya is a crowded, fashionable, trend-setting area of Tokyo particularly popular with young people. Fashion shops, game centres and fast food restaurants abound. Observe the organized chaos of the Shibuya crossing from the Tsutaya building on the crossings north side. When the lights change at this famous junction, students can witness a sea of people cross from all sides.
30 mins
See on map
With over 50 large scale models and 2500 original objects and replicas this modern museum covers the history of the city of Tokyo, formerly known as Edo. See how the city developed over 400 years from when the warlord Tokugawa Ieyasu established his government in Edo. Learn about the impact of WWII on the city and how it has developed over the centuries into the modern metropolis we see today.
2 - 3 hours
See on map
The Kyoto International Manga Museum, housed in an old primary school building, contains a large collection of Japanese Manga. The museum also looks at the development of Manga internationally and has a smaller collection of international works. Events at the museum often involve foreign artists and there are frequent temporary exhibitions.
2 hours
See on map
12
The Golden Pavilion, Kyoto
The Kinkaku-ji Temple or golden pavilion is so called because of the gold-plated sanctuary which houses Buddha's bones. The temple was built in 1397 for the third Ashikaga Shogun Yoshimitsu.  The Temple is reflected in a pond surrounded by a beautiful garden which is said to express paradise. Each visitor receives a fortune scroll.
1.5 hours
See on map
13
Calligraphy lesson, Japan
Calligraphy or Shodo is recognised as an art form in Japan and is an important part of Japanese culture. It was introduced from China in the 6th and 7th century and is the art of writing Kanji (Chinese characters) or Kana (Japanese syllabaries) using a special brush and ink on Japanese paper.
1.5 hours
14
Hiroshima Peace Park and Memorial Museum
Due to its tragic past during WWII, Hiroshima is now known as a City of Peace. See the symbolic ruined building, the A-bomb dome, which is one of the few to remain standing after the atomic blast of August 6th 1945. Wander through the Peace Park on an area devastated by the world's first deployed atomic bomb with its memorial to the victims. The moving Memorial Museum tells the story of the immediate and lasting impact of the Atom bomb on the population of Hiroshima.
Half day
See on map
Typical accommodation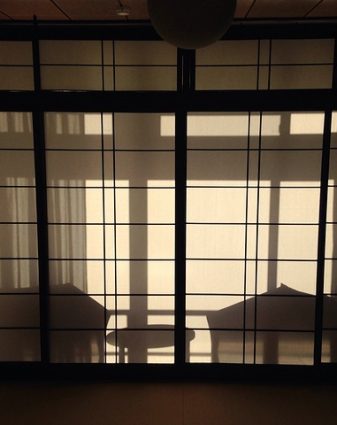 Japan accommodation ★★★
See on map
Why groups like it:
Accommodation in Japan is of 3-star standard
Accommodation close to the attractions and points of interest on your itinerary
We only select accommodation that provides high standards of service
Facilities:
Guestrooms generally have twin beds
Rooms are usually equipped with TV and air conditioning
En-suite facilities are provided